Craig note- Slow day! I am enjoying all that my precious free time has to offer! Lots of great eats lately, too (featured below)!
(Enjoy!)
Cover Photo– Unsplash
Got a Question for the Grey, Grizzled, And Gaijin Mailbag? Send it to: @craighoffman11 on Twitter!
ON KAMA-MESHI (Mother's Day)
Kama-meshi (釜飯) literally translates to "kettle rice" and is a traditional Japanese rice dish cooked in an iron pot called a kama. Kamameshi originally referred to rice that was eaten communally from the kama.
On Great Drinking Songs
Note from Craig: I have a rare day off, and I'm enjoying an adult beverage. While everyone should drink responsibly, there is a time and place to let loose and enjoy life. Here are four tunes that you should have on your playlist for such occasions. What other songs do you listen to while having a cold one? Let the Icon(s) know in the comments!
Oddly, I did not have my first drink until I was 21 years old. It was a fuzzy navel. I remember thinking, "Um, okay, nothing happened." My natural tolerance for alcohol is high. It was about six months before I drank again.
At the time, I had dreams and goals for my life. In truth, too much alcohol made people I knew get off track in life. I was never going to be one of "those people" I vowed. But fast forward to Japan…my sobriety did not last for long.
Song Recommendation- "Tequila" The Champs (1958)
I have an affinity for the drink. What can I say? But I also enjoy the song. It was a staple of the high school basketball pep band when I was a student. That aside, did you know The Champs recorded a sequel to "Tequila" entitled "Too Much Tequila"? It reached No. 30 on the Billboard Hot 100.
The Beer Stand
One of the first things that shocked me in Japan was that you could buy alcohol from a vending machine. Too, I was flabbergasted that you could walk down the sidewalk while drinking outside. (It's pretty awesome by the way.)
There was a popular beer stand near my house. It had three vending machines full of alcohol. I sat often in the scorching summer heat after work drinking, sweating, and chatting with a few old guys. Those dudes drank enough to make a Japanese carp drown.
Our bad livers aside, my first English teaching job ended five years later. I had to clean and move out of my school-provided apartment. There was loose change all over my house. I collected it and put it in a well-used mop bucket. To my surprise, the local bank refused to accept my spare change.
The bank teller said it was "too dirty" So I took it back home, and I washed it. I returned to the bank the next day. This time the bank manager said, "Well, some of the coins are still wet." He refused to take most of the money.
Song Recommendation- "Friends in Low Places" Garth Brooks (1990)
Brooks was a shoe salesman in a Nashville store, looking for his big break when he was asked to make a demo of this iconic song. Contrary to popular belief, other artists recorded the song before the country legend did. But Brooks's recording won the 1990 Academy of Country Music award for Single of the Year.
Man, Old Dudes Can Really Drink
I again carried my change-filled bucket back towards my toy box-sized home. I saw one of the regular old guys sitting on a rickety, blue bench in front of the beer vending machines. Let me tell you, that ol' bucket got heavy, and a big thirst welled up inside me. I put my would-be treasure down on the ground.
Grabbing a handful of damp coins, I bought a tall can of my favorite Japanese beer. The elderly man chuckled at my change-filled bucket as I cracked open my ice-cold can. Unfazed, I pulled out more change, and I bought him a Japanese whisky. He thanked me profusely, and we began to drink the afternoon away.
Another ancient-looking guy soon sat next to him, foaming at the mouth like a rabid raccoon-dog for a cold drink. I yanked out change from my bucket, and I bought sake for him. There were soon twenty Japanese 'grandpas' coming from all over the neighborhood.
Song Recommendation- "Red Solo Cup" Toby Keith (2011)
The venerable red Solo cup is, as Toby Keith says, "the best receptacle for barbecues, tailgates, fairs and festivals." Admittedly, I ain't much on using plastic cups, but I do enjoy this tune while chugging just about anything from a bottle…'Solo' or not.
Drink Up, Boys!
I spent the next two hours chucking change from my bucket into those rusty, yen-sucking vending machines. We drank until the red sold out lights flashed like a Christmas tree. All told, I spent 350 bucks that day. It was worth every yen. For years every time I met one of those old guys at the old beer stand or at a bar in town, they bought me a drink.
A few of the senior citizens in that extraordinary bunch sadly have passed away. Beer stands and bars unfortunately will never be adequate substitutes for going to a gym. Yet, oh how I wish that afternoon could have lasted forever, especially living in the world as it is now!
Song Recommendation- "Piano Man" Billy Joel (1973)
No song illustrates the awesome atmosphere of a local bar scene better than Billy Joel's "Piano Man." It tells the story of ailing strangers who can share a drink together instead of drinking alone. The title track, a fictionalized retelling of Joel's experiences with people he met as a lounge singer in Los Angeles, reached No. 25 on the US Billboard Hot 100.
Sadly, The Bar Isn't Always Open
My time in that town quickly came to an end the next week. I moved a couple cities over, married, and my life in Japan was never quite the same. Alas, there is no going back. The beer stand and another fantastic standing bar I enjoyed in the area closed last year due to the virus. Those places now are as empty as my plastic bucket got on that most memorable day.
Final Take- Still, forced or not, change can be a great thing when it sparks life-long friendships across different cultures and even multiple generations. And, of course, when it leads to free whisky for old Japanese men, and ice-cold beer for me. Enjoying A Day Off: 5/5
ON YUMMY EATS
ON MORE YUMMY EATS
ON MORE, MORE YUMMY EATS
Grey, Grizzled, and Gaijin
ON A NEW SHORT STORY
ON A NEW PLAY IS OUT!
Popular Japan-based blogger and writer Grey, Grizzled, and Gaijin is out with his first play. A unique, character-driven prose dissecting the every day struggle to find life purpose, passion, and motivation.
A modern take on real issues between men and women that are as old as time with novel twists.
ON A NEW EBOOK!
Popular Japan-based expat blogger, writer, and novelist Grey, Grizzled, and Gaijin is out with his first Christian-themed work.
A series of 21 mini lessons based on the Bible and quick philosophical takes from some of the best and brightest minds from history and the modern day.
The self-paced lessons are also accompanied by questions for discussion as well as light commentary from the prose of Grey, Grizzled, and Gaijin, one the most prolific expat bloggers and essayists in Japan today.
Grey, Grizzled, and Gaijin
ON NO 'MOORE' MESS- A STORY OF STRONG WOMEN
We are happy to present our new novel No 'Moore' Mess.

Popular Japan-based expat writer, essayist, and blogger Grey, Grizzled, And Gaijin 2020 Writers In Kyoto-Fifth Kyoto (International) Writing Competition Honorable Mention Award Recipient for "Signs of the Times," presents his first LGBT and Christian-themed novel.

Follow the lives of Bertha, Helen, and Mary Moore and a host of other memorable characters as they learn to deal with growing up, life, death, God, and each other.

A thoughtful commentary and allegory on contemporary issues facing women and families in society, the workplace, and inside their broken homes.

A can't miss tale for fans of dramas and deep stories with heart!
ON POSTS YOU SHOULD READ
BONUS FOOD PICTURE AND BLOG POSTS
Grey, Grizzled, And Gaijin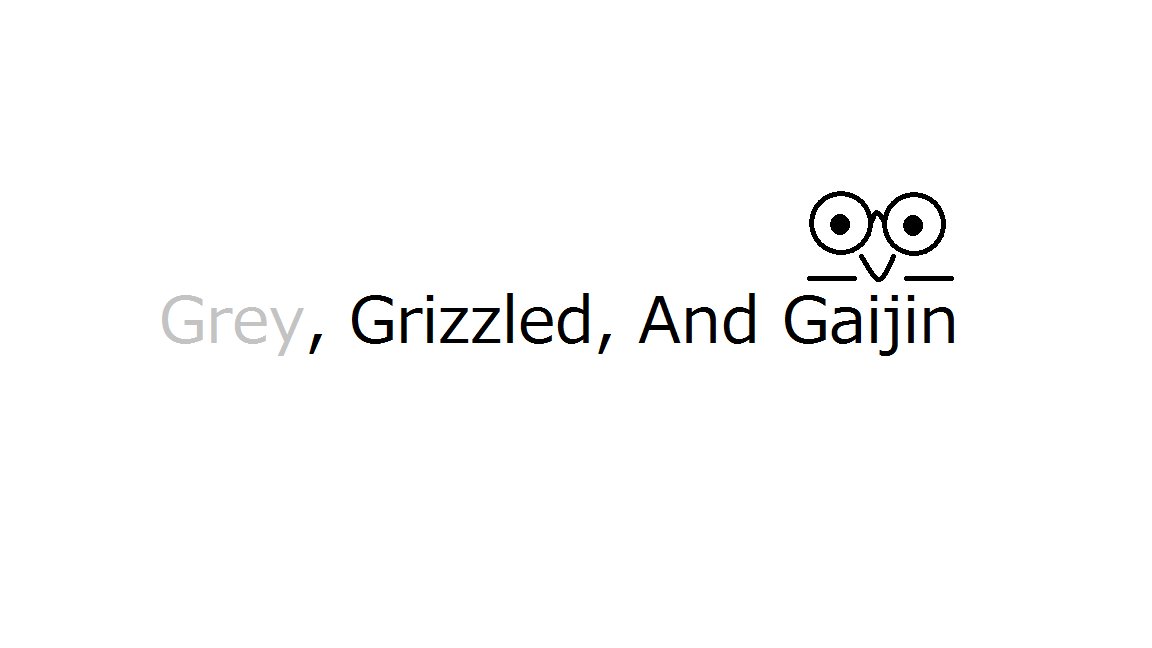 Got a Question for the Grey, Grizzled, And Gaijin Mailbag? Send it to: @craighoffman11 on Twitter
"You only live once, but if you do it right, once is enough."- Mae West