Craig note–  We take a moment to highlight some of the very best content creators we saw this year on Twitter. We could have picked from any number of amazing people.
That is a credit to the work many of you do to "be more" in your lives, virtual and real, too. And, the world and I are better for engaging you this year.
Thank you!
No bonus blogs or food pictures today. I want the focus to be on the work of these fine, fine, fine folks! (Enjoy!)
***We kept our focus on people who don't generally do Social Media as their sole means of employment. If you are a Social Media professional, we figure you don't need our love.**
Cover Art- Grey, Grizzled, and Gaijin
2018 GGG Content Creator Of The Year- The Real Japan
The Real Japan provides a variety of superb content about Japan. Their content is consistently well presented and marketed. They also offer a unique guide to assist people who dream of visiting Japan.
The Real Japan also supported several emerging content creators throughout the year by offering guest blog spots. This top honor is most deserved, and we are proud to award it at this time.
Amazing!
2018 GGG Blogger Of The Year- Teni Wada
There were so, so, so many great bloggers in 2018. But, I felt blogger and writer Teni Wada's unique blog on fashion, motherhood, and snacks stood out this year.
You are someone extraordinary when you can balance work, parenting, and writing.
Awesome!
2018 GGG Writer Of The Year- Bill Adler Jr.
This was a tough category several great writers wrote super content. In the end, I enjoyed the new work of writer and blogger Bill Adler.
His new book "No Time to Say Goodbye" was a fast-paced and engaging read. I thoroughly enjoyed it.
Fantastic!
2018 GGG New Writer Of The Year- Liam Exelby
I cannot say enough how hard it was to pick only one person for this award. But, I enjoyed Liam Exelby's debut novel. Liam showed tons of potential in his exciting and well-presented science fiction work.
I am looking forward to his follow works.
Superb!
2018 GGG Youtuber Of The Year- JaDan
This too was a difficult category. But, I picked JaDan. He offered well produced and heartfelt vlogs all year long.
In addition, he provided a positive outlook on all things Japan!
Wonderful!
2018 GGG Photographer Of The Year- John Qjn
Again, the Twitter-verse is full of great photographers. But, I enjoyed the first class work of John Qjn. His unique mix of camera angles and shutter speeds provided some unforgettable photos.
He also does wonderful live feeds of Japan.
Not to be missed!
2018 GGG Social Media Newcomer Of The Year- Sunny Larue
This year I met and engaged several great, great, great people. I could have picked any number of them for this award. But, in the end, I chose writer and blogger Sunny Larue.
While she does not write on Japan, her deep blog and her positive attitude make for an enjoyable read.
Brillant!
2018 GGG Social Media Break Out Star Of The Year- West Coast To Far East
We enjoyed several new faces this year on Twitter. But, West Coast To Far East provides a regular dose of the countryside life in Japan. It was a welcomed break from the hustle and bustle of the big, big, big city in Japan.
Marvelous work!
2018 GGG Social Media Lifetime Achievement Award- Kevin O'Shea
Some people have done so, so, so much on Social Media they could win every category. That would not allow my blog to showcase some special people. But, such people deserve recognition.
I choose Kevin O'Shea.
He is a longtime content creator in Japan and more recently China. He has gone above and beyond in creating free content for the masses. He has also consistently helped new content creators do and "be more" in their Social Media efforts.
Well earned, sir!
2018 GGG Engager Of The Year- You

I select you! If you have taken the time to like, retweet or share Grey, Grizzled, and Gaijin's content, this award is for you. That might seem like a copout, but it quite the opposite.
2018 was a year in which my blog broke out and did great, great, great things!
That is a testament to super people just like you. Folks who gave me the opportunity to entertain and enlighten them for no reason at all. I appreciate your support and kindness in 2018!
Thank you very much!
Grey, Grizzled, And Gaijin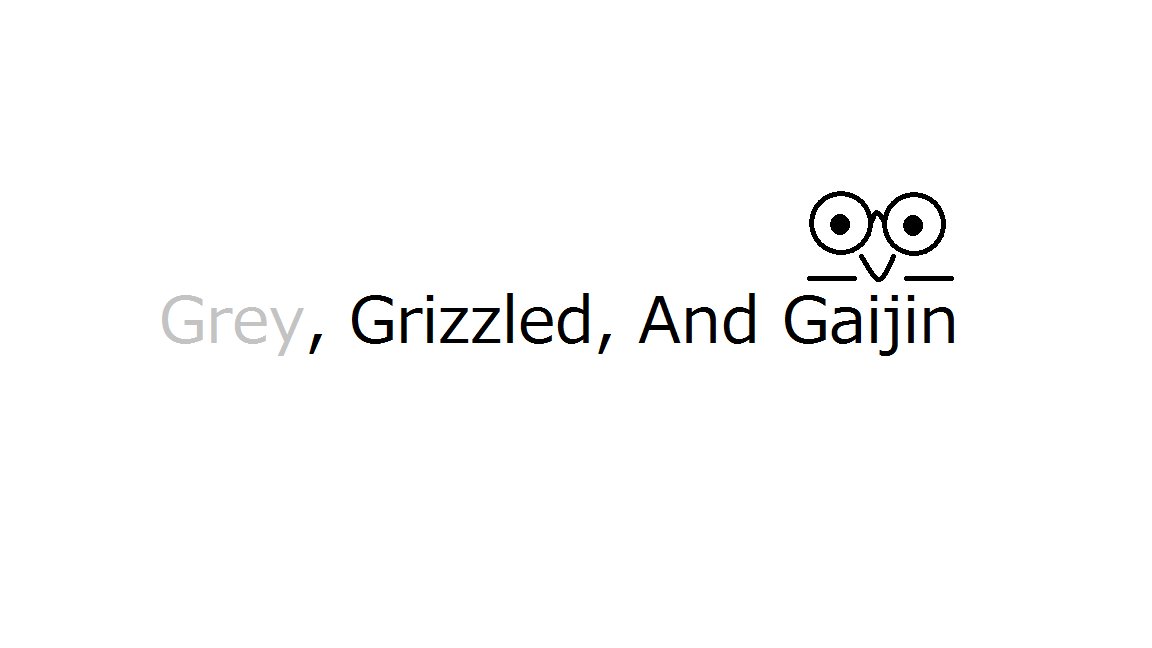 Got a Question for the Grey, Grizzled, And Gaijin Mailbag? Send it to:  @craighoffman11 on Twitter!
"That's the thing about awards – it's for the people who do all the hard work behind the scenes. An award is just a clap at them."- Sia