Craig note- Our "Lifting Up People In 2018" series continues with another wonderful, wonderful, wonderful guest contribution!
Today`s Grey, Grizzled, And Gaijin "Lifting People Up In 2018" post is courtesy of up and coming writer and blogger:
Teni Wada
You be DARN sure to follow her like we do across her various Social Media platforms:
Ms. Wada`s blog:  Baby Kaiju.
Her Tokyo life in squares: Instagram @wadateni
And if you love the Yankees and Japanese limited edition snacks and drinks, follow her on Twitter @wadateni.
(We happily do! We actively retweet her interesting posts, and SO SHOULD YOU!)
(Enjoy!)
By now, I'm sure many of us have seen that video of foreigners sitting at a table speaking in Japanese, yet being responded to in English. (And if you haven't, take a look.)
Why do (some) Japanese people immediately speak English when talking to foreigners, even when they have been addressed to in Japanese? Better yet, why do (some) Japanese assume that foreigners in Japan speak English? There's plenty of languages out there!
So, I'm going to share why I don't get upset when Japanese people speak to me in English.
To begin, I need to start with a bit about myself. I create content for several English language sites focused on Japan as well as translating and creating travel brochures. Before that, I was a kindergarten teacher. And, in what seems like an entire lifetime ago, I was a gyaru working in Shibuya 109.
The only (visible) foreigner in the mall in those days, I had a steep learning curve. Proving myself meant not just keeping up with the latest styles and trends and becoming a top seller; that also meant mastering the art of sales talk and honorific Japanese.
As more international shoppers visited Shibuya 109, I became the go-to person when there was a foreigner in my shop. Other staff even came by to ask me if I could help out with quick interpretation.
One particular day, my manager came to me and said, "Oh, there's a foreigner over there. Why don't you go help her?"
I quickly headed over to where she was, browsing clutches decked out in crystals. I cheerfully said, "Hi there! Let me know if you need anything."
She turned around and very rudely spat back, Nihongo de heiki da yo! (I can speak Japanese, you know!) and angrily sauntered off. When I saw her face, I immediately recognized the customer, a singer with a few songs on the charts.
Being of mixed heritage, there's no doubt she's gotten similar reactions from Japanese people throughout her entire life based on her appearance. But, was it really so necessary to be so rude?
Which brings me back to the topic at hand. I can handle myself in Japanese, but if someone wants to use English, by all means do it.
Why?
Having worked in the service industry I know how horrible people can be. I've got countless stories to tell.
On the flip side, if I feel someone's demeanor is inappropriate, I get 'em where it hurts — the wallet. I just take my hard-earned yen and spend it where my presence is welcome.
It's annoying being asked "Do you speak Japanese?" but I don't need to prove myself anymore. I managed to hold my own this long and that's all that matters.
 
More About Teni Wada:
When I'm not busy creating content or teaching kindergarten, I write about life in Japan as a fashionista turned first-time mom on my blog, Baby Kaiju.
My Tokyo life in squares: Instagram @wadateni
And if you love the Yankees and Japanese limited edition snacks and drinks, follow me on Twitter @wadateni.
Grey, Grizzled, And Gaijin would love, love, love to thank Teni Wada for her super effort! We have no doubt she has a bright, bright, bright future in the writing world.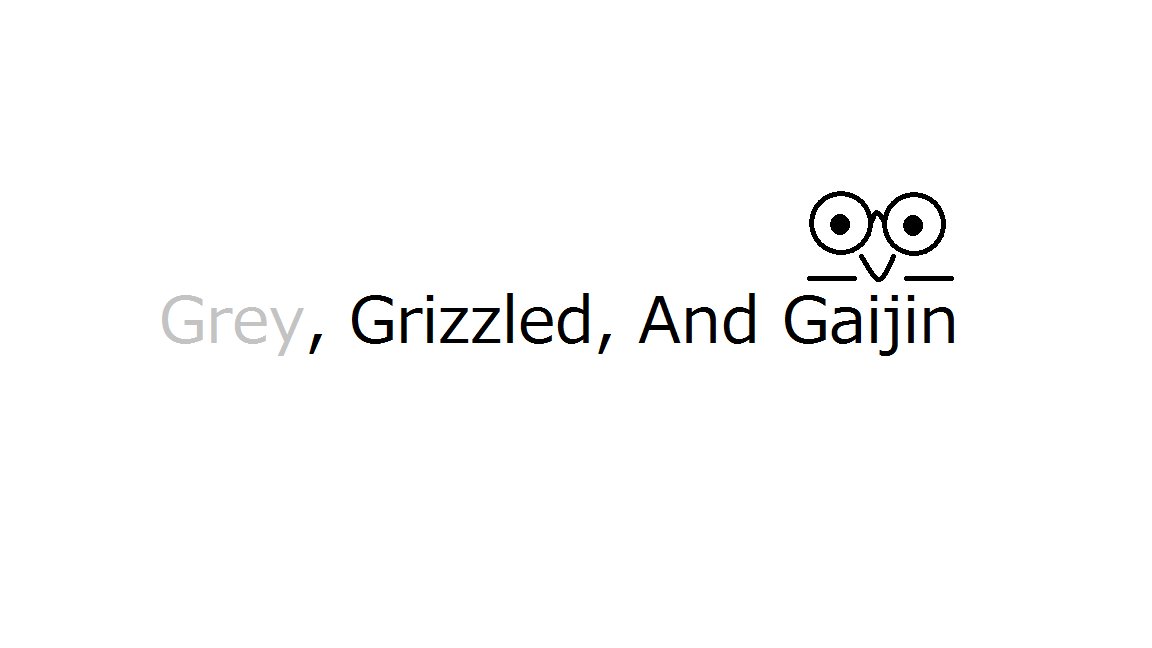 Got a Question for the Grey, Grizzled, And Gaijin Mailbag? Send it to:  @craighoffman11 on Twitter!
"Success is attaining your dream while helping others to benefit from that dream materializing."- Sugar Ray Leonard