Craig note- It`s Grey Grizzled, And Gaijin Social Media Week!
We returned to social media full force this last year. Twitter growth, personal branding, and sincere engagement was our focus.
And, then, we mused:
"What can we do on Twitter in a year as a non-famous and well, well, WELL below average looking dude (with like no social media budget)?"
It turns out…quite a lot. (Enjoy!)
August 2016
Tweets-0
Tweet Impressions– 2
Profile Visits– 2
New Followers– 0
Mentions– 0
Grey, Grizzled, And Gaijin– We truly started at virtual ground zero. Z-E-R-O.
September 2016
Tweets– 37
Tweet Impressions– 672
Profile Visits– 121
New Followers– 6
Mentions– 1
Grey, Grizzled, And Gaijin– Early on, we took a conservative approach to Twitter. We launched the blog that you are reading and created a simple logo, too.
That was really, really, really it.
Honestly, we were unsure how much time we could commit to social media and writing.
In the end, our blog churned out 270+ posts. That`s easily north of 220,000 words.
So, there`s that. (lol)
October 2016
Tweets– 850
Tweet Impressions– 60,900
Profile Visits– 4,152
New Followers–  279
Mentions– 210
Grey, Grizzled, And Gaijin–  Soon, we pushed out more content.
The majority of our early tweets were Japanese food/travel pictures along with nearly daily blog posts. We also reached out to several bigger Twitter users in the hope that they would notice us.
A few did, but mostly we were ignored.
(It happens when you are small Twitter potatoes.)
November 2016
Tweets– 871
Tweet Impressions– 129,000
Profile Visits– 7,387
New Followers– 387
Mentions– 290
In November, our focus was on creating connections with publishers. We were most interested in landing professional writing work.
There were offers for paid articles, but they didn`t pay any real money. So, we took a pass on writing for peanuts.
We believed our time was better spent building our personal brand on Twitter.
And, it was.
December 2016
Tweets– 798
Tweet Impressions– 116,000
Profile Visits– 4,888
New Followers– 178
Mentions– 296
Our Twitter feed interaction numbers dipped in December.
It was not unexpected. The holidays are a busy time for everyone. The casual social media user simply has other priorities. But, we made good use of our free time by creating tons of fresh content.
The sheer volume of original content (photos, blog posts, etc) that we tweeted out was amazing.
January 2017
Tweets– 907
Tweet Impressions– 173,000
Profile Visits– 6,821
New Followers– 289
People were back on Twitter in full force after the holidays in January.
We, too, had more free time to create blog content and post photographs. We pushed our way into the social media hashtags and retweeted more current event news stories.
In addition, our blog themes expanded to include more social media, travel, and culture posts.
February 2017
Tweets– 1,036
Tweet Impressions– 227,000
Profile Visits– 12,900
New Followers– 684
Mentions– 434
Perhaps, it was a product of the cold weather, but we got quite the boost in followers in February.
We worked hard to push out our blog again and again. The readership was low per post, but the accumulation of retweets did get us out there.
The reality is that you have to find ways to stand out on Twitter. Otherwise, it`s just a big, big, big waste of your time, effort, and money.
Too, we sought more interaction with the expat content creation community. The quality content of our engagers was retweeted ad nauseam.
While not everyone returned the favor, we did build a solid group of engagers who did/do kindly retweet our content.
That helps Twitter growth enormously.
March 2017
Tweets– 768
Tweet Impressions– 161,000
Profile Visits– 12,200
New Followers– 177
Mentions– 354
March was the first month that we focused on the timing of our tweets. Later, we used scheduling applications to push our blog out to our readers.
It worked well.
April 2017
Tweets– 1,077
Tweet Impressions– 208,000
Profile Visits– 18,700
New Followers– 777
Mentions– 340
We continued our aggressive tweeting through Hootsuite. There was a marked increase in traffic and interaction.
Our hard work was showing some tangible results. But, it was time to think outside-the-box.
And, we did.
May 2017
Tweets– 1,396
Tweet Impressions– 273,000
Profile Visits– 19,700
New Followers– 1,066
Mentions– 427
Grey, Grizzled, And Gaijin offered a free cover letter/resume/CV review for any active engager. We pushed, pushed, and PUSHED it.
And, it caught on in a big, big, big way.
We also got more aggressive in our follower management through Crowdfire. The monthly paid service is well worth the money.
It made our daily social media work day far, far, far easier process.
And, the first annual Grey, Grizzled, And Gaijin Guest Blog Writing Contest was also held during the month of May!
June 2017
Tweets– 1,190
Tweet Impressions– 255,000
Profile Visits– 14,000
New Followers– 694
Mentions– 305
We rode the wave of our free cover letter/resume/CV service offer. It drove traffic to our Twitter feed and blog. We also continued an aggressive campaign of retweeting other quality content of our engagers.
It was a super, super, super month of interaction.
July 2017
Tweets– 1,509
Tweet Impressions– 363, 000
Profile Visits– 19,300
New Followers– 753
Mentions– 522
We got super, super, super aggressive in tweeting.
And, we spent a significant amount of time reaching out to our core with our logo in the form of various "Follow Friday"-type posts. These posts were highly effective in driving mentions, interactions, and web traffic to our Twitter feed.
We also got our first sponsors! They allowed us to keep writing and provide all the free services for our engagers.
Their support was invaluable as we grew on Twitter.
August 2017
Tweets– 1,695
Tweet Impressions– 440,000
Profile Visits– 16,700
New Followers– 531
It was summer vacation.
We got extremely aggressive in tweeting photographs, blog retweets, and short Twitter videos. It drove people to our content in a big, big, big way. And, our core was more active than ever with us via twitterchat, too!
We felt our core was finally becoming more than just numbers in August.
Twitter Growth Summary- Year One
Tweets– 14,400
Tweet Impressions– 2,406,572
Profile Visits– 136,896
Followers– 6,205 
Mentions– 3,999
Grey, Grizzled, And Gaijin- Top Twitter Building Tips
A.  Be aggressive in tweeting. It`s basically impossible to tweet too much (as long as it is quality content).
B.  Be MORE aggressive in retweeting of quality third-party content.
C.  Use Twitter videos (YouTube, too) for more personal interaction with your core.
D.  Give away free stuff, services or hold a contest to create more buzz.
E.  Use Canva to create professional looking infographics.
F.  Watch your interaction numbers and adjust your Twitter feed towards more popular content or different media formats.
G.  Realize your core consumes information in different ways, balance photos, videos, and written content.
H.  Use twitterchats and surveys to better understand what your core is engaging.
I.  Promote other active engagers through Follow Friday or similar events.
J.  Never, ever, EVER take a day off, someone out there is ALWAYS working hard to grow on Twitter.
K.  Believe 100% that you can be successful on Twitter.

Grey, Grizzled, And Gaijin- Super, Super, Super Secret Hints For Twitter Success
–  We get/got up every single day before 4:00 a.m. to write, schedule tweets, engage people, or create new content.
–  We use/used every free moment we had/have to engage new folks on social media.
–  We are/were extremely quick to respond to folks.
–  We formed retweet relationships with several core engagers.
–  And, we are/were relentless in our pursuit of growth on Twitter.
Now, it`s time to roll up your virtual sleeves and get to work!
Grey, Grizzled, and Gaijin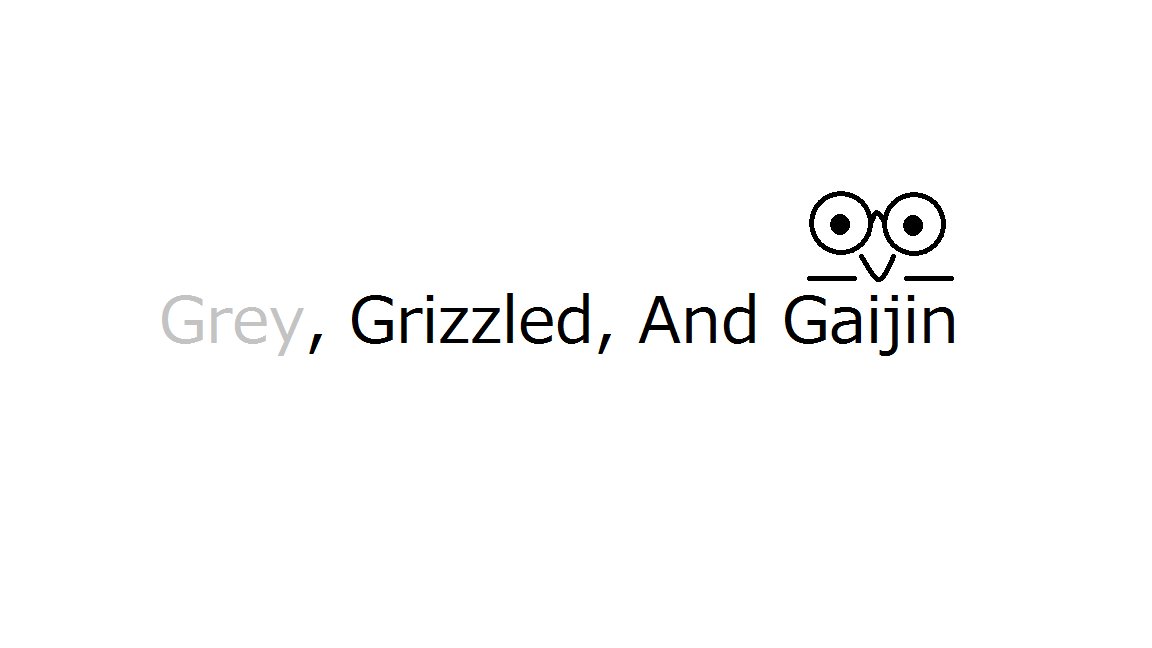 Got a Question for the Grey, Grizzled, And Gaijin Mailbag? Send it to: @craighoffman11 on Twitter!
"In many ways, effective communication begins with mutual respect, communication that inspires, and encourages others to do their best."- Zig Ziglar