Craig note-  From my archives…(2005)
I came across some old e-mails today from my great, great, great friend Em. Years ago, we were graduate school classmates. She went off to get a Ph.D. Sadly, she came back to her apartment one evening, and she suddenly died this month 12 years ago.
I don`t think they ever knew the cause. She was always full of wisdom for me as you will see. And, she was eager for my resume advice, too. (Enjoy!)

So sorry to hear you lost your job.
(My company cut my hours down to just four hours a week.)
I was hoping that the bad luck of unemployment was only on my shoulders.  I am sure you will find something soon….though I have been looking for months now and the only thing I am doing is basically working as a maid for a few people. 
This is what it has come to… (Em`s job search had not being going well.)
I have done so many interviews now I am on automatic pilot, and for some reason no one wants to give me a chance.  But, this afternoon I finally landed an interview with a bookstore.
The pay rate s-cks, but maybe I can talk them into something more with all my musical experience (the job is in the music dept).
(She didn`t get the job.)
Meanwhile, things are still up in the air for me at (university).  They are offering me a class to teach, it's really very little money.  The experience would be good, but at the same time I already have the experience.
(Em took the class. And, she did a great job teaching.)
I think my bigger issue is that I don't think that deep down I really want to stay here.  I applied for a perfect for me college teaching gig at (university).  I have left a few phone messages on the chair of the committee's machine, but no call backs.
(Em was always doggedly in pursuit of what she wanted in and out of her life.)
I want this job so badly I can taste it, it is only a one year commitment too, so I could find a better Ph.D. program.  I know if I can get an interview I can get the job, but with every day that passes I fear I will only get rejection.  I am not sure if I will stay here either way.
I know it will be better for my resume to have another year here, but it will be so much worse for my wallet.  I just wish I knew what to do to make myself competitive for the Ph.D. program at (university), my new university of interest.
Anyway, I am still struggling mightily to make ends meet, but try to remain faithful that something will work out. I am applying for a (university) specific scholarship that could offset some of the tuition costs, who knows what my chances are though.
(She got the scholarship.)
I hope you aren't way down in the dumps, I know how overwhelmed you get feeling like nothing is going right.
(Em was one of a few people who I shared my angst at not being more successful in my life. Those demons still plague me in my darkest moments even to this day.)
Call it pessimism or realism, I don't care….just remember that you still have your mind and your heart and you're walking around….that's a lot going for you.
(Shortly after this e-mail, I got my first job in Japan. Emily was so, so, so proud of me. And, three months later, she was dead. I found out six months later when I stumbled upon her obituary online.)
Grey, Grizzled, and Gaijin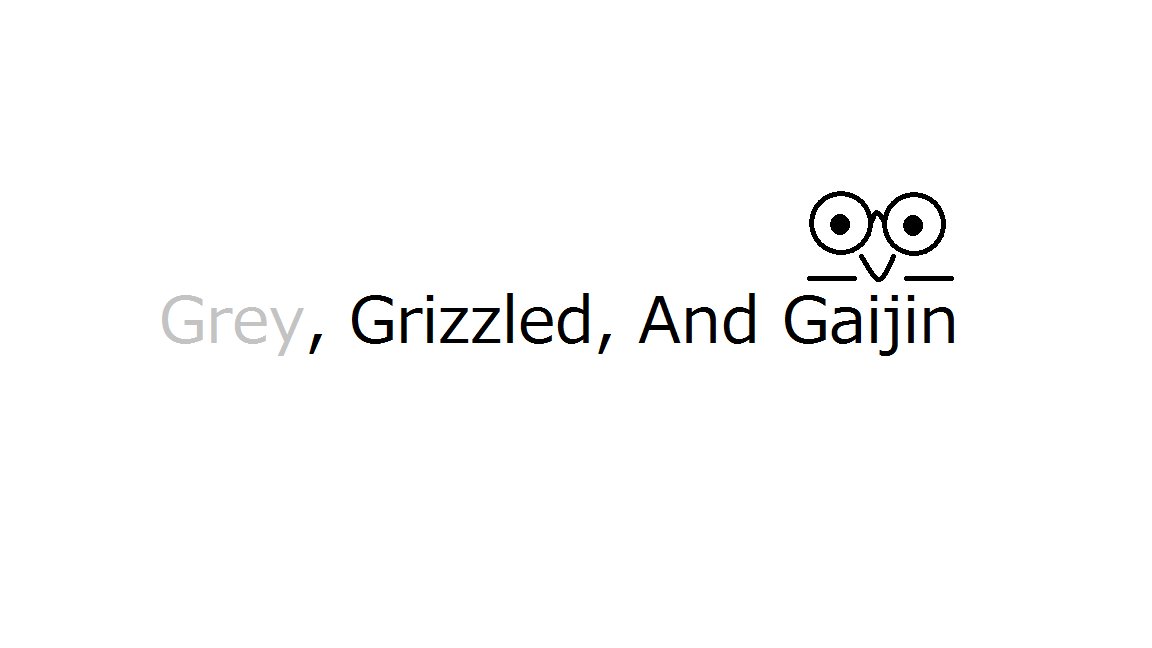 Got a Question for the Grey, Grizzled, And Gaijin Mailbag? Send it to: @craighoffman11 on Twitter.
"Be brave enough to live life creatively. The creative place where no one else has ever been."- Alan Alda