Craig note-  From the archives and some new content, too. Be careful when you "loan" money to other foreigners. (Enjoy!)

On Loaning Money (To Other Foreigners)
Once again, someone has borrowed money from me.
Do I look like a foreign(er) bank?
Worse, they did it without asking.
(That`s a long, long, long story.)
Worse-er (yeah I made that word up), they are running up a tab with me that I have no idea how they are going to pay it back. Living overseas, invariablely means trusting certain things to certain people.
Sometimes you have no choice.
(I still hate that about living abroad.)
I NEVER "loan" money to family either. But, some people in my family have "borrowed" thousands of dollars from me. No wonder I have been working a zillion hours a week as I try to make it in the world.
I let it go.
It just gets ugly because then I have a conversation about it, and I am the bad guy. I am not well off.
Every dollar/yen I make goes to pay down some debt. Even now, I own nothing and certainly have NOTHING to my name.
Worse, this latest loan, if it cannot be repaid, cancels my vacation I was going to take. It figures I finally convince myself to take a vacation, and this happens. It is exactly why I always save like a rabid dog.
I am really, really, really going to try not to get angry about the money. But, unless there is an unbelievable explaination. It is not going to be pretty.
(It wasn`t pretty. But, I got my money back. Eventually…)
Once again, it reason number 400 why I am a a very, very, very private person.
On Broken Washers (And Dating Foreigners)
Okay, it was a full day.
My washing machine is on the fritz. But, I am making it limp along. It does not want to go through the spin cycle. Worse, I am not sure whose responsible for replacing the washing machine, but if I have to buy a new one it will be like 200 bucks! (It was 500.)
(The school board picked up the tab. But, that`s rare. I called in a few favors.)
Oh, observation number two, I really do not want to date other foreigners in Japan! Once again I met a new woman from the next town over. Wow!
I shall be kind, but "NO frigging way!" I have no idea how she convinced the JET Program to let her come here.
(She was a mental mess.)
This town has changed so much.
There is so, so, so much drama building up between more than a few people. I am trying to be a peacemaker, but some people are not intent on finding peace.
How is it people cannot get along?
(It became a war.)
I have stressed to my friend(s) that I would like the last 19 months of my time here to be very, very, very peaceful. This is especially true since I will go back to being a nobody in my hometown. And, there is a good chance I will have a rather crappy job to boot.
(My English teaching job was about to end, I thought. Thankfully, I ended up getting a new contract.)
I enjoy life very, very, very much. But, I know my life here is temporary. (lol)
I would like to at least enjoy a few more months of low stress living before returning to that enviornment I am not going to get wrapped up in some English teacher drama.
I have really, really, really made strides in not letting things bother me. I generally have squeezed all the stress in my life out. I am content to sit on my blue bench of solitude.
Upon which I contemplate the universe…
(There was an old bench in front of my first apartment. I sat out there for hours (usually drinking) while thinking about where I wanted my life to go.)
Here is hoping people can come to effective resolutions of their problems while keeping the drama to a limited degree.
That would be nice in the time I have left.
(Those folks didn`t find any peace. But, like 99% of foreigners who come here, they all left, and with them the drama, too. And, my life went on…)
Grey, Grizzled, and Gaijin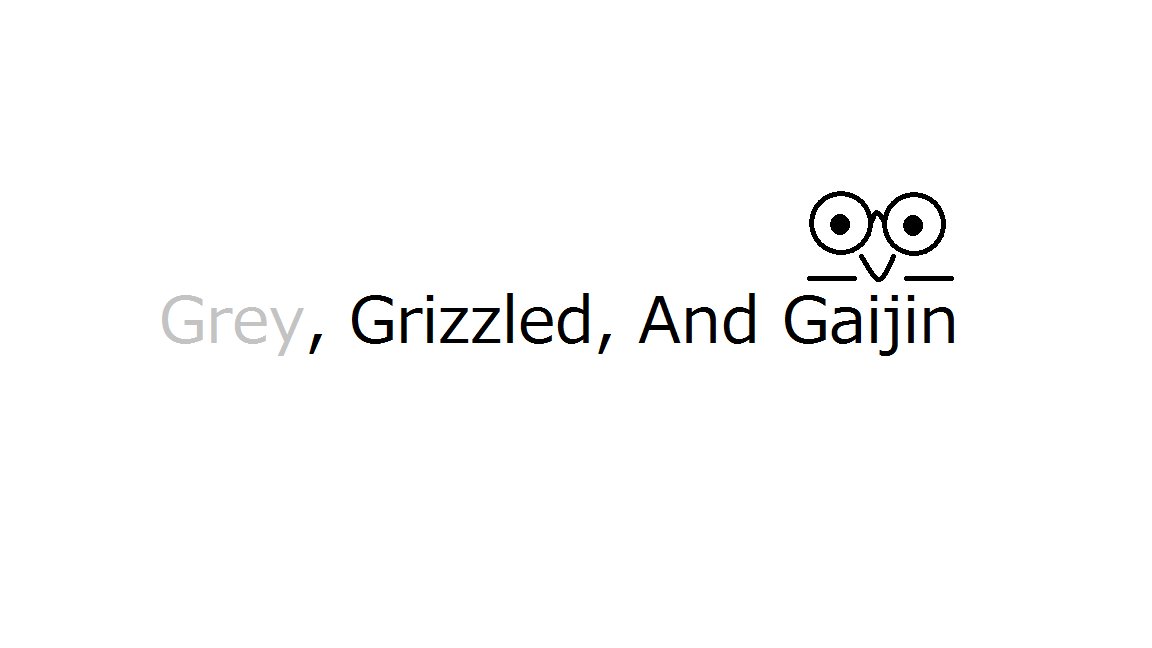 Got a Question for the Grey, Grizzled, And Gaijin Mailbag? Send it to: @craighoffman11 on Twitter.
"I think what makes people fascinating is conflict, it's drama, it's the human condition. Nobody wants to watch perfection."- Nicolas Cage