Craig note:  Discussing realistic, free (low-cost) strategies for building personal brands on Twitter… (Enjoy!)

My Personal Embarrassing (Humble) Twitter Start
Last September, I made a choice to see how far I could get as a writer. Unfortunately, every expat in Japan (and around the world) has the exact same idea. Of course, I knew this to be true long, long, long ago. So, there was some catching up to do.
Survey The Social Media Scene
The proliferation of social media allows people to post content 24/7.
99% of that content is junk.
And, 99% of the people don`t care, because they are not trying to "make it" big.
But, the 1%. That`s you and me if you are reading this post. We have huge, huge, huge dreams of social media success. But…
The 1% does not post junk.
And, the 1% cares very, very, very much how they use their time and money (often lots of it) to build their personal brands. You can feel like a little lost sheep among the big, bad social media wolves. Trust me, I was the weakest of lambs.
Last August, I got two profile visits and 14 impressions the entire month on Twitter. So, when I tell you this story, I am telling you as someone who was at the very, very, very bottom rung of the Twitter social media ladder. If that is you, too, there is hope for you.
As of this post, there are 3,653 super, super, super kind folks who "follow" Grey, Grizzled, And Gaijin. And, our Twitter gets 18,000+ profile visits a month along with 240,000+ impressions. (I hate the word "follower.")
To be sure, Taylor Swift is not quaking in her designer cowboy boots any time soon. But, we have gotten people`s attention over the past several months. Hopefully, you can take something from this post to help your dreams of social media success come true.
(Notice the subtle shift to "we." That`s an important first step in real social media branding success. "`I` is limited, `we` are not.")
Create A Blog
The first order of business was to create a blog. That`s this completely free site you are reading. We sifted through some of our best content, and the new site was up and running in minutes.
The next step was building a large bank of posts. At first, the posts were short (about 500 words). But, we posted daily. And, the posts were shared multiple times a day on Twitter and once a day on Facebook.
The response was muted, but we stayed the course. Once the Grey, Grizzled, And Gaijin blog hit about 100 posts, the content came out 3-4 times a week. It has grown as our social media influence has increased. And, it is the flagship of our social media.
Design A Logo
We designed a simple logo to use on social media.

The logo was created on MS Paint. Soon after, we posted our original content on Twitter relentlessly using this logo. The response was again muted. But, we stayed the course. And, the logo is now closely identified with our personal brand. (Are you seeing a theme here?)
Use Hashtags
We debuted #greygrizzledandgaijin as a personal brand hashtag. But, of course, nobody outside of all but our most loyal fans knew what that was (or cared enough to find out). We adjusted our social media hashtags to better reflect our content traffic goals.
#Japan
#japan (use both)
#japanesefood
#jetprogramme
#jetprogram
#esl
We posted a steady stream of content from our personal archives anywhere from 15-75 times a day seven days a week for months. And, yes, that`s a lot of Twitter posting. We lost people early on as they were overwhelmed by our sheer Tweet volume. But, the short-term losses led to long-term gains.
The more established brands in Japan, personal and business alike, eventually connected with us. We spent hours liking, retweeting, and engaging every Twitter user who liked or retweeted us. In the end, we were too annoying persistent to ignore. That paid dividends over the long haul, and it is still doing so today.
(Caveat:  You had better have some great content if you are going to extreme Tweet for any length of time. You will anger the masses with a flood of junk. We have 12 years of pictures and unpublished content.)
Build Then Expand Your Core
The English teaching expat market was a good place to start. It was an area we were knowledgeable in, and it was something we could quickly create blog content about in bunches. It was guaranteed to get some engagement. That worked well up to a point, but we encountered our first social media ceiling.
Think Bigger Picture And Cast A Wider Social Media Net
Foreign English teachers in Japan are so, so, so niche. And, there are many, many, many websites, YouTube channels, and podcasts dedicated to that demographic. There is nothing wrong with such a narrow focus. But, we wanted to go in a unique direction.
The Grey, Grizzled, And Gaijin blog content turned to deeper life issues, more general expat and travel themes, and social media thoughts. We added several new hashtags to our new content.
#travel
#expat
#life
#SocialMedia
This provided an opportunity to get our content in front of  larger segments of Twitter users outside of Japan. At this point, we did not have more than 400 "followers" on Twitter.
"Follow" More People And Know Why People Are (Not) "Following" You
The number of "followers" was not a concern for us. But, we reached out to people who found us not worth the time. We followed more people, and naturally a few of those people followed us back. But, it was at a rate of 5-10%. That was disappointing. But, the issues were addressed head on with our engagers.
Grey, Grizzled, And Gaijin reached out to our core in a series of multiple choice surveys and #twitterchat events. It took several attempts and weeks to collect enough data. But, in the end, it was clear:  The core supporters of Grey, Grizzled, And Gaijin did not care about English teaching in Japan.
They were more interested in Japan-related news story content, food/travel pictures, Japanese culture, and social media. We focused our content (original and third party) towards those people.
Share Others Especially The Little Guys
We posted more current Japan-related news content. These news stories got far, far, far more interaction than most of Grey, Grizzled, And Gaijin`s original content, save for the food pictures.
There was a conscious effort to post third party food pictures and news stories to the feed while mixing in our original content. We actively promoted quality content from other expats here.
There was a 15:1 ratio of other content posted to our own. We still maintain that ratio in general. Grey, Grizzled, And Gaijin is very, very, very supportive of the independent expat content creators in Japan.
Sadly, 99% of the people and companies did not share our content back in kind. But, there were nice folks and companies who did. That increased our exposure and influence. Then, suddenly, Grey, Grizzled, And Gaijin plateaued at about 1,500 "followers." But, we stayed proactive.
We looked for ways to get more interaction from our passive core audience. Many, many, many of our supporters were interested in finding new jobs in Japan or in their home countries. There was an opportunity to develop new connections. And, we seized upon it.
Give Away Free Stuff
Grey, Grizzled, And Gaijin offered free resume-CV and cover letter assistance to any engager. Of course, people were skeptical. But, we helped several people with their application materials. We only asked in return that IF they were pleased with the help we provided them that they give us a shout out. And, they did.
Too, we offered to let folks write guest contributions for the blog. And, we got a few people who did, and we promoted each of them very, very, very regularly. It gave the blog a bit more of an official feel by having the guest bloggers.
Unfortunately, our growth plateaued once more. At that point, we made (and continue to make) a daily effort to engage people as they head out for their work day in Japan or when they are returning home from work. These posts get strong levels of interaction.
We also offered our novel on Amazon as a free promotion. It was an opportunity to give something to everyone. And, it allowed us to drive people to the Grey, Grizzled, And Gaijin blog.
Find Creative Avenues To Repackage Content (Yours and Theirs) 
Too, we use Paper li. It is a content curation website. It is free on the basic level. You can create a custom newspaper. Paper li collects content and publishes under your brand`s umbrella.
It also automatically gives shout outs to several engagers and uses various hashtags. The news story collection is popular among our core. People took notice of our efforts to showcase more influencers.
Get Sponsors To Increase Your Reach Into Untapped Markets
We sought out sponsors for the Grey, Grizzled, And Gaijin blog. We traded on our active Twitter brand and social media acumen. We put together a small network of businesses and artists as official Grey, Grizzled, And Gaijin sponsors.
Grey, Grizzled, And Gaijin actively supporters our sponsors driving traffic to their brands and websites. In return, they actively engage us on Twitter. This symbiotic social media relationship has been very, very, very useful in increasing our visibility and influence. The small businesses, too, report an increase in website and Twitter traffic.  
Design Effective Infographics


We created new infographics to promote our authentic personality while cross promoting the Grey, Grizzled, And Gaijin blog.
Canva is an excellent free (in-app purchases) infographic creator. The basic level has met our needs in this area. Canva allowed us to create a variety of sponsor-related and personal branding content.
Too, we used (and continue to use) Buffer. Its basic service lets us cycle through ten posts per day at peak times. This allows us to give greater focus to the Grey, Grizzled, And Gaijin blog content creation.
In addition, we respond to our engagers through Tweetdeck. It is an older program for Twitter. But, it is free, and it works well.
Get A Tool For Your "Follower" Management
Grey, Grizzled, And Gaijin uses Crowdfire. The Crowdfire application allows us to streamline our "follower" list while reaching out to new folks on Twitter. The free level is fine early on in your personal brand building process.
Unfortunately, the daily use limits of the basic Crowdfire service make large-scale social media management an inefficient process. Grey, Grizzled, And Gaijin hit about 1,000 followers, and we realized a change was necessary. One that would cost us money out of pocket.
The Pluto plan offered by Crowdfire was our choice. Grey, Grizzled, And Gaijin is pleased with the return on our investment (about $11 USD) a month. The price varies by length of committment from the user. The annual fee of about $50 USD appears to be well worth it. It is a subscription change we are making in the next billing cycle.
Final Thoughts- Bringing It Full Circle

So, there you go. That`s how we went from zero to (small) social media hero. Let`s recap, so you have a clear plan of action as you go forward with your own social media.
Create a blog.

Design a logo.

Be relentless liking and retweeting

early on

while "following" more people.
Post quality content (especially photographs).

Adjust Twitter hashtags to make sure your content is getting seen by your real core.

Use Twitter surveys and #twitterchat to discover true data patterns and emerging trends within your core. (Twitter also offers limited data for free.)

Make smart social media pivots in response to the true desires of your core audience.

Offer free services and special content.

Beat competitors (and collaborators) to the punch in thanking and supporting people.

Cross promote with smaller businesses on Twitter.

Employ automated social media tools effectively. 

Make a small investment in a "follower" management program.
Please let us know if this advice was helpful to you. We would also love to hear how you are building your personal brand(s) on Twitter.
Give us a shout out any time!
Grey, Grizzled, and Gaijin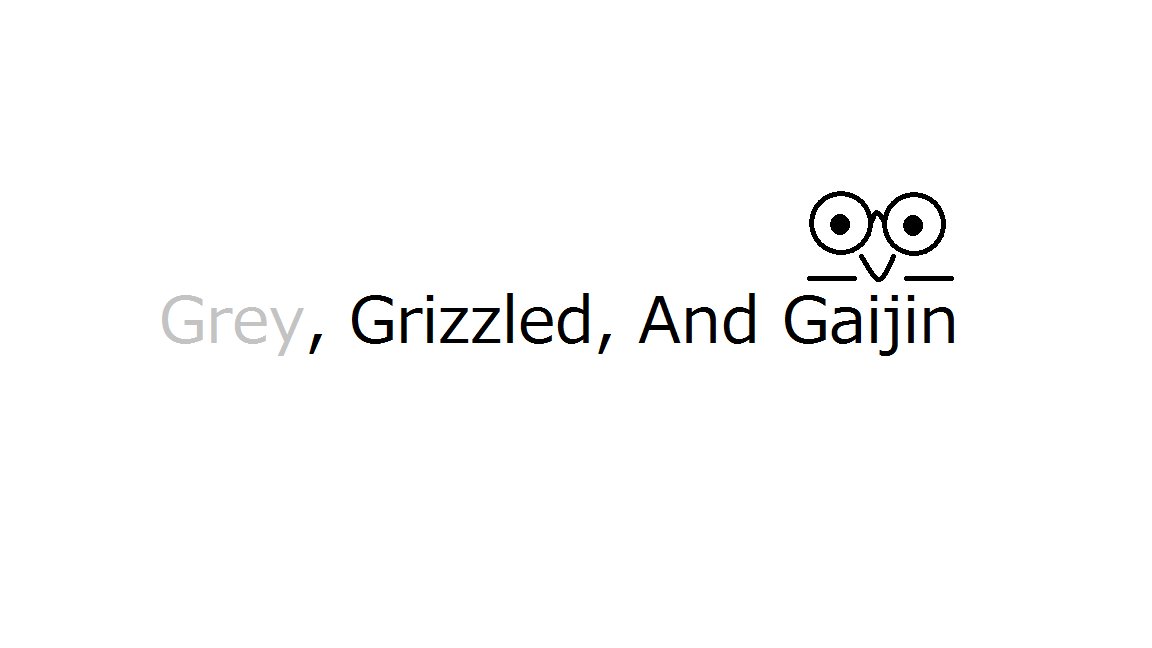 Got a Question for the Grey, Grizzled, And Gaijin Mailbag? Send it to: @craighoffman11 on Twitter!
 "Success doesn`t come to you. You go to it."- Marva Collins