Craig note:  It`s the 200th Grey, Grizzled, And Gaijin blog post. This is a good moment to reflect on things and to thank everyone for their support. (Enjoy!)
Introduction
We would like to thank everyone for their tremendous support of Grey, Grizzled, And Gaijin. It has been an honor and privilege to earn your support across various social media platforms. ("We" is intended throughout this post. You do not succeed in social media or in life without other people helping you. Trust "me," you just don`t.)
Grey, Grizzled, And Gaijin Writing Content
Two hundred posts in eight months is quite a lot. That`s an average of 25 posts a month. Too, we pushed the blog out on Twitter hard. The numbers are climbing, and we are grateful for your loyal readership.
The blog has covered a variety of issues. There are stories about several aspects of English teaching in Japan.
Grey, Grizzled, And Gaijin Mailbag- How To Survive The Grind Of English Teaching
The Human Tape Recorder: Why Don`t Japanese English Teachers Use Their ALTs More?
How To Prepare Young ESL Students To Sing In English
There are some very, very, very good articles on (about) international marriage.
Kawa No Ji How To Survive A Sexless International Marriage
Grey, Grizzled, And Gaijin Mailbag- Should I get Married?
Grey, Grizzled, And Gaijin Mailbag- Expats And Living With The In-Laws
And, there are a number of fun articles about food and travelling in Japan.
Mid-range Dinner Dates In Japan
The Grey, Grizzled, And Gaijin blog covers a number of social media issues.
Moses, The Promised Land, And Building Social Media Influence.
Twitter- Expectations. Ego. (Over)eagerness.
Grey, Grizzled, And Gaijin Mailbag- When Your Social Media Goes Bad
We seek to entertain, enlighten readers interested in Japan, social media, and life. We hope to step a bit outside of the singular focus (i.e. English teaching, food, travel, etc.) that so many, many, many blogs fall prey to on social media here.
Japan: "Pit Stop" or "Final Stop"?
When Your Happy Life Traps You…
We pride ourselves on the quality of the posts being presented, especially for a 100% free website. It is important to be positive in life, but we live in the real world.
Grey, Grizzled, And Gaijin provides a realistic look at the traps that befall many, many, many expats, young and old alike.
A,B,C,(D)runk- The Dangers Of Drinking Alcohol As A Foreign English Teacher In Japan
Money Management For English Teachers In Japan
The growth of the Grey, Grizzled, And Gaijin blog was a welcomed surprise. And, we are proud of it. That is a credit to every single person who took the time to read a blog post. Thank you! Thank you more if you retweeted or shared them!
Free Resume-Cover Letter Service
There were people who took us up on this free service for Grey, Grizzled, And Gaijin engagers over the past several months. Some folks needed a full resume package, and we did that for them. But, we found that most people simply needed a good edit of their existing materials. We were happy to assist them with that process.
There were a few engagers who wanted advice about how to build more marketable skills. We helped them with that, too. Several people got jobs, interviews, and meetings because of their hard work and updated cover letters and resumes. Well done!
Social Media Engagement
We tried our very, very, very best to engage and interact with every single person or company that we "followed" or were "followed by over these past few months. At first, that was easy. We had a limited number of "followers" and we "followed" mostly big companies that provided fresh news content.
These days we spend a lot of time keeping up with the various correspondence from new and (old) engagers alike. People know Grey, Grizzled, And Gaijin far, far, far more than they did a few months ago. And, that`s great!
A special thanks to the supporters who retweet Grey, Grizzled, And Gaijin`s original social media content. It is very, very, very much appreciated. We would like to extend a special thanks to those folks like the Just Japan Podcast for consistently retweeting our original content. It helps!
Guest Blogs
There have been wonderful writers who have taken a moment out of their busy schedules to make a contribution to the Grey, Grizzled, And Gaijin blog. We wanted more people to write for the blog. But, we worked hard to push out every guest contributor.
Hopefully, we can get more people to post their articles about expat life in the future.
Trevor Raichura- Baseball Is Not Yakyu
Craig Atkinson- Friends, We All Need Them
Ann Jie- A Little About Ann Jie
Allison Dotson- Show Me The Way, Atlas
Grey Grizzled And Gaijin Guest Contributions
ESL Expat was nice enough to feature Grey, Grizzled, And Gaijin here. 
The ALTInsider, too, was very, very, very kind to let us contribute three articles to their website.
You`re Not That Special And Neither Is Your Resume
Earning A Decent Salary As An English Teacher In Japan
Grey, Grizzled, And Gaijin: Why do so many lifer foreigners hate living in Japan?
Social Media And Sponsors
We pursued ways to increase Grey, Grizzled, And Gaijin`s social media influence. Several small businesses were kind enough to join us in support of the Grey, Grizzled, And Gaijin blog. And, we in turn support them on Twitter.
Since the sponsors joined us, the overall numbers on Twitter are up. We hit between 200,000-225,000 impressions a month. The number of tweets has remained the same, but there has been a major increase in "follower" numbers.
That was a very, very, very positive marketing strategy. Several small businesses and artists got more exposure on social media. (That`s awesome!)
Twitter And Other Social Media Content
We have been aggressive in terms of tweeting. Early on, we lost followers. There is no doubt the sheer number of tweets pushed some folks away. But, the tweeting/retweeting also drove brand recognition. It increased profile site visits from 20 to 18,000+ hits a month. No doubt, that was the way to go for us.
Food Pictures
The original food pictures get high levels of interaction. People love food (and cats). And, well, we are allergic to cats. So, we share pictures of food. (lol)
News Story Curation
The Japan-related news retweets are well liked. The non-Japan news is popular, too. The Grey, Grizzled, And Gaijin Times gets good numbers from its daily publishing project.
The Grey, Grizzled, And Gaijin blog posts are getting more interaction. The retweets get solid numbers, and the content gets engaged multiple times with minimal effort from us.
At first, we wrote much more about English teaching in Japan. But, those articles get less interaction from Grey, Grizzled, And Gaijin`s general core at this point. We have grown and evolved. And, we changed to serve our active core of social media fans.
The social media articles do well. And, that content was repackaged on other social media platforms. It has been worth writing on those social media-related topics.
The travel articles are getting good numbers. But, we don`t believe even well-written travel blurbs solely do much to allow Grey, Grizzled, And Gaijin to stand out. There is an enormous social media crowd in Japan. (Anyone can write about sushi. And, they do, oh, they do. Trust us.)
We believe the combination of our strong writing, good photographs, regular blogging, and high tweet activity level has built something unique within the enormous sphere of social media in Japan. And, we are proud of what we put out there every day.
The Bigger Question, "Is it worth it?"
We wrote someone a few months ago that we would give ourselves until the 2020 Olympics to "…make something happen on social media…" This was in regards to developing a professional writing career or in finding a new job doing something other than flipping English word flashcards for peanuts.
At the time, it made sense. The level of interest in Japan is at an all-time high. We thought if there was ever a chance to break out and do something more here it was now. We (still) believe that. And, we write and post daily with that goal in mind.
The writing has been fun. And, we have tons of content that we can post to Twitter. Our expectations of doing more in Japan are grand; perhaps, too grand. But, we have entertained, and we have fully supported others. That is never a bad thing on social media or in life.
In closing, we thank you again for supporting Grey, Grizzled, And Gaijin. Here`s to 200 more Grey, Grizzled, And Gaijin posts in the future!
Grey, Grizzled, and Gaijin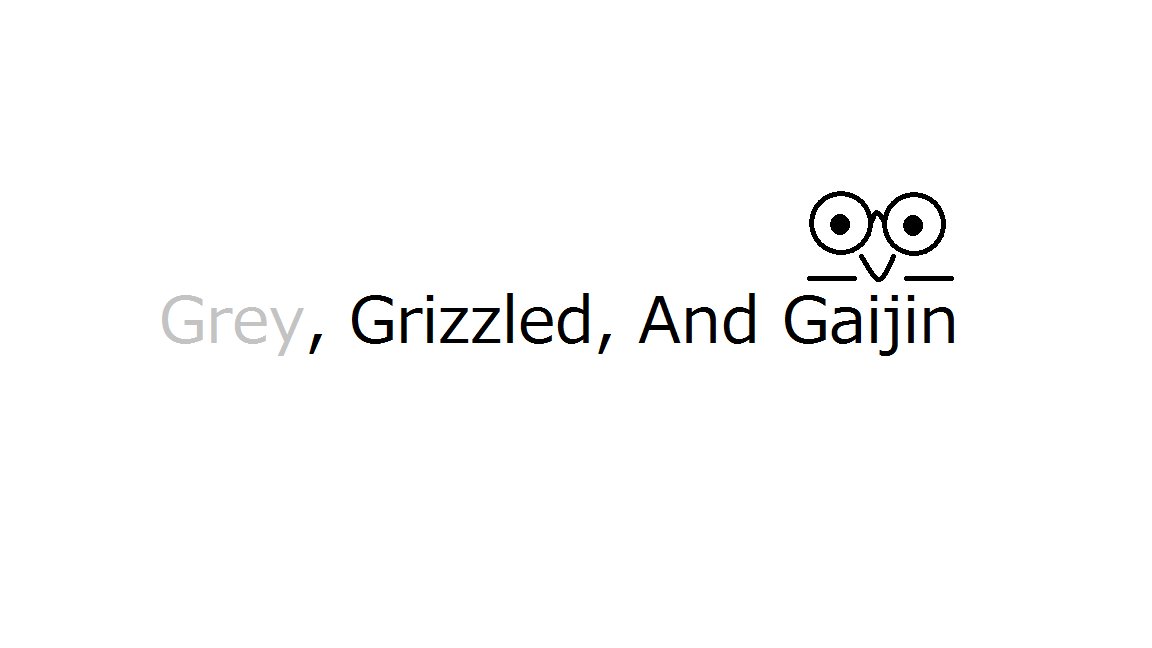 Got a Question for the Grey, Grizzled, And Gaijin Mailbag? Send it to: @craighoffman11 on Twitter!
"To be yourself in a world that is constantly trying to make you something else is the greatest accomplishment."- Ralph Waldo Emerson